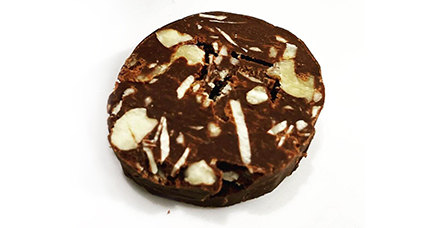 Ingredients:
280g sugar-free dark chocolate
6 tablespoons unsalted butter
2 tablespoons heavy cream
1 cup chopped mixed nuts (pecans, walnuts, pistachios, hazelnuts or blanched almonds. I roasted them for more crunchiness
2 tablespoons Keto crumble (made of almond flour, butter, sweetener and chopped walnuts)
1 tablespoon unsweetened cocoa powder
1 teaspoon lemon zest (optional)
2 tablespoons rum (optional)
Powdered sweetener for coating (optional)
How-to:
Melt the chocolate and butter in the microwave oven. Be careful not to burn it. Tip: You can add the cream if it is too thick.
Add the rest of the ingredients (except for powdered sweetener) and mix well. Tip: Taste the mixture and if it is not sweet enough, you can add some sweetener.
Let the mixture sit in the fridge for 30 minutes
Place the mixture on parchment paper and roll it tightly into a "salami". Tip: Tighten it so that there are no holes in the middle to prevent it from crumbling.
Tape the parchment paper so that it stays in shape.
Refrigerate for a few hours, or better still overnight, before serving
If you have a great recipe to share with the community, please send us a note to tell us more about your recipe.