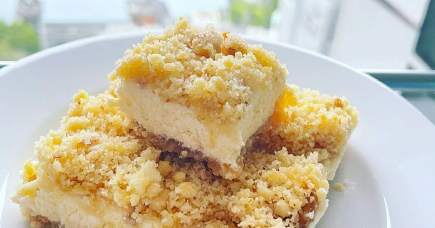 Ingredients:
Base and top crumble:
2 cups Almond flour
200g Unsalted butter softened
1/2 cup granulated sweetener of choice (you can add more if you prefer it to be sweeter)
1 cup Chopped walnuts
Optional lemon zest
Mix all and bake till slightly golden
Cheese Filling:
Juice and zest from 2 lemons
2 (8 oz.) packages cream cheese-softened
½ cup sweetener
3 Tablespoons unsalted butter-melted and slightly cooled
How-to:
Preheat oven to 350 F and line the bottom of a 9×13-inch baking dish with aluminium foil and spray with cooking spray.
Put a layer of the crumble at the bottom of the baking tray and flatten it.
Beat softened cream cheese with ½ cup of sweetener, juice from 2 lemons and about ¾ of the lemon zest until smooth and creamy, then spread over the base.
Sprinkle crumble on top of the cheese filling.
Bake for 25-30 minutes.
Cut into squares.
If you have a great recipe to share with the community, please send us a note to tell us more about your recipe.