Keto and low-carb meals are just as delicious, wholesome and easy to prepare. We have featured our best keto-friendly and tastebud-tantalising cooking inspiration. We believe in whole food, clean keto. If you are gluten free or not we still can advise.
All our recipes use the best ingredients with whole foods and clean eating for you to stay healthy.
---
Recipe 1: KETO DOSA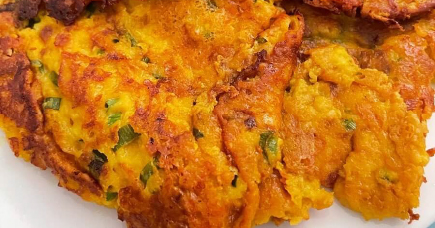 Ingredients:
1/3 cup almond flour
1/3 cup cheddar cheese
1/4 cup coconut cream
Hot water to dilute about 3 tbsp
2 shallots diced
1/4 tsp turmeric powder
1/4 tsp chilli powder
Pinch of salt
How-to:
Mix all into a paste.
Flatten the paste on a pan.
Pan-fry till golden brown and flip it to fry the other side.
---
Recipe 2: KETO CHOCOLATE SALAMI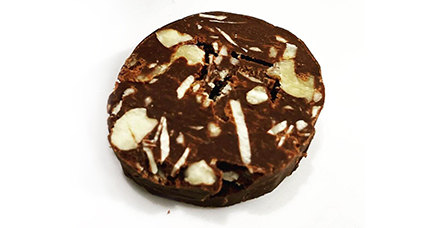 Ingredients:
280g sugar-free dark chocolate
6 tablespoons unsalted butter
2 tablespoons heavy cream
1 cup chopped mixed nuts (pecans, walnuts, pistachios, hazelnuts or blanched almonds. I roasted them for more crunchiness
2 tablespoons Keto crumble (made of almond flour, butter, sweetener and chopped walnuts)
1 tablespoon unsweetened cocoa powder
1 teaspoon lemon zest (optional)
2 tablespoons rum (optional)
Powdered sweetener for coating (optional)
How-to:
Melt the chocolate and butter in the microwave oven. Be careful not to burn it. Tip: You can add the cream if it is too thick.
Add the rest of the ingredients (except for powdered sweetener) and mix well. Tip: Taste the mixture and if it is not sweet enough, you can add some sweetener.
Let the mixture sit in the fridge for 30 minutes
Place the mixture on parchment paper and roll it tightly into a "salami". Tip: Tighten it so that there are no holes in the middle to prevent it from crumbling.
Tape the parchment paper so that it stays in shape.
Refrigerate for a few hours, or better still overnight, before serving
---
Recipe 3: KETO LEMON CHEESECAKE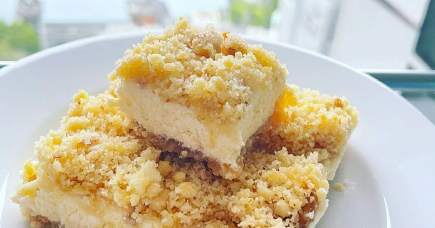 Ingredients:
Base and top crumble:
2 cups Almond flour
200g Unsalted butter softened
1/2 cup granulated sweetener of choice (you can add more if you prefer it to be sweeter)
1 cup Chopped walnuts
Optional lemon zest
Mix all and bake till slightly golden
Cheese Filling:
Juice and zest from 2 lemons
2 (8 oz.) packages cream cheese-softened
½ cup sweetener
3 Tablespoons unsalted butter-melted and slightly cooled
How-to:
Preheat oven to 350 F and line the bottom of a 9×13-inch baking dish with aluminium foil and spray with cooking spray.
Put a layer of the crumble at the bottom of the baking tray and flatten it.
Beat softened cream cheese with ½ cup of sweetener, juice from 2 lemons and about ¾ of the lemon zest until smooth and creamy, then spread over the base.
Sprinkle crumble on top of the cheese filling.
Bake for 25-30 minutes.
Cut into squares.
---
Recipe 4: MASHED CAULIFLOWER WITH PARMESAN CHEESE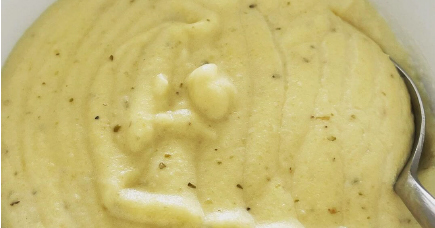 Ingredients:
Cauliflower heads
Heavy cream
Parmesan cheese
Salt and pepper
How-to:
Boil the cauliflower heads in salted water until they are soft.
Mix the rest of the ingredients and blend them all in the food processor until you achieve a smooth texture.
---
Recipe 5: KETO RICELESS SUSHI ROLLS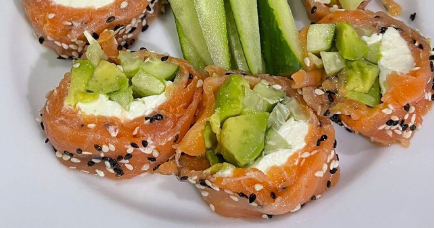 Ingredients:
Smoked salmon
Cream cheese
Cucumber
Avocado
Sesame and Nigela mix
Sauce:
Mix soya sauce, sesame oil, ginger and wasabi
How-to:
Spread a big piece of plastic sheet out on a flat and clean surface
Sprinkle sesame seeds all over the plastic sheet.
Arrange the smoked salmon on the plastic sheet, overlapping the pieces (to avoid them falling apart when you roll them)
Apply cream cheese and place thin slices of avocado, and cucumbers in rows on the salmon
Roll the salmon tightly around the filling.
Wrap the roll in another sheet of plastic and refrigerate it for 30 minutes
Cut the sushi roll and serve with the sauce
If you have a great recipe to share with the community, please send us a note to tell us more about your recipe.